Mainstream Measurements are proud to announce the launch of MainProbe – Vu RS485 MODBUS
MAINPROBE-Vu RS485 MODBUS is a low-power, streamlined ultrasonic flow velocity sensor with a 10 mm/s to 5 m/s bi-directional measurement range and 1 mm/s resolution. The minimum operating depth is 30 mm. The flow velocity measurement is temperature corrected for variations in the speed of sound.
Measurements are accessed via an RS485 Modbus RTU interface.
Features include measurement on demand and timed measurement refresh, while the Mainstream Adaptive Measurement System (MAMS) adjusts the sensor operation to match the flow conditions.  MAMS is a feature new to the MainProbe and allows the probe to adapt to the environment in which it is operating, automatically reducing its power consumption where possible. While still upholding the same reliable measurement standards found on all Mainstream products.
Fundamentally, the MAMS system allows the MainProbe to finish a measurement early if a suitable amount of velocity information has been acquired by the sensor. The MainProbe measures the flow velocity by processing the ultrasound signals reflected from tracers (air bubbles & particulate matter etc.) carried by the flow.  At a high flow velocity more tracers are carried past the sensor in a given time interval than at a low velocity. Consequently, at a high flow velocity the sensor receives information at a higher rate than at a low velocity.  MAMS works by basing each velocity measurement on processing the same fixed quantity of information. When this information limit has been reached the measurement is terminated (regardless of whether or not the probe has been run for the full specified measurement time). Thus, as the velocity increases, MAMS automatically reduces the measurement time.  By basing each velocity measurement on a fixed quantity of information, the MAMS feature ensures that Mainstream delivers consistent measurement performance under all flow conditions and, whenever possible, reduces the measurement time which saves power.
Signal quality indication provides measurement integrity monitoring with velocity histograms and velocity signal capture for diagnostics.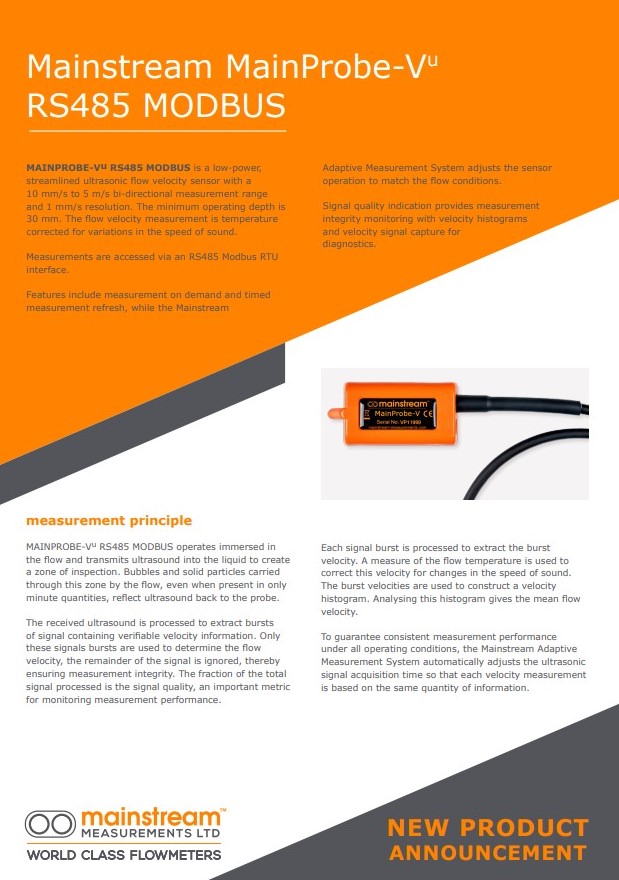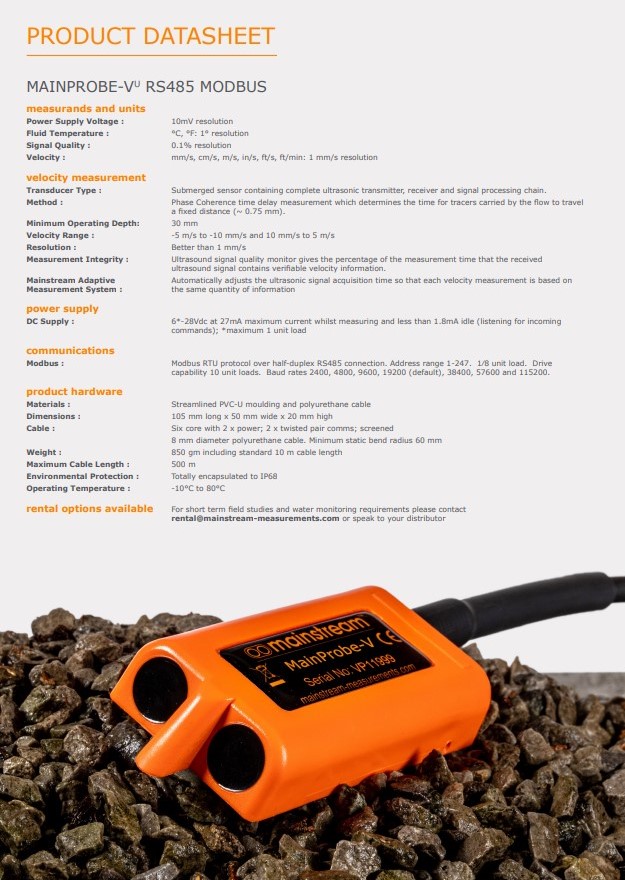 For further information contact either Bev, Gary or Ania on the emails below:
bevbruce@mainstream-measurements.com
garyosborne@mainstream-measurements.com